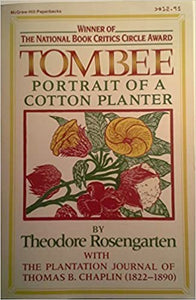 Tombee was an unlucky slave owner and cotton planter on St. Helena Island, South Carolina. His real name was Thomas B. Chaplin, and we know him because of his plantation journal, kept between 1845 and 1858.
The fascination of this journal is enhanced by notes that Chaplin added periodically after 1865, bringing the lives of his characters up-to-date. Not unnaturally, he compared his poverty after the Civil War with antebellum opulence, lamenting the one, deploring the other.
Theodore Rosengarten has made accessible the last years of an American aristocracy. Besides containing a history of the Carolina Sea Islands during the second golden age of cotton, the book is a study of the dull horror of plantation slavery.


USED Book