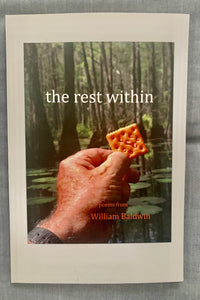 Brand new poems!
THE REST WITHIN: for Dan by Wm. Baldwin
Just now afloat on the lily lake
and having eaten the last Nab,
that tasty, small, square, glaringly
orange, pattern-punctured cheese
cracker filled with a salty sweet
paste of peanut butter, I found
myself longing for another,
for this same food is the main
furniture of the Southern soul,
where for a short while, at least
and at best, it remains whole,
allowing our miniaturized inner
selves to plunk down, and on such
a mattress, stretch out and rest.