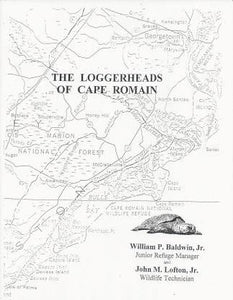 "Bill Baldwin, Jr. and his assistant Johnny Lofton spent the summer of 1939 on Cape Romain doing one of the first systemic studies of loggerhead turtles. The two young men camped out in a shack set well back from the Cape's beach in a scorching, breezeless sump. By land their transportation consisted of their feet and by water an oyster bateau and a cantankerous five h.p. outboard motor. They wrestled their galvanized milk-can water supply over a half mile of narrow, sandy, cactus lined path. They smeared burnt engine oil on the screens to keep out the gnats.  Needless to say, they had the time of their lives.
     The resulting report, this booklet, was being prepared for publication when World War II began, and as a result of that war was put aside. Dog-eared typed copies existed however, and in the years since it's been borrowed from occasionally. Still, we at The Village Museum wanted the original to finally see the full light of day. Special thanks to Patty Fulcher who kept this project going...."
Everything you need to know about loggerhead turtles, from mating to the hatchlings' entrance into the ocean.  Also includes chapters on loggerhead enemies and the economic relationships to the once brisk turtle industry of the past.

William P. Baldwin, Jr, Junior Refuge Manager
John M. Lofton, Jr, Wildlife Manager
 An exclusive Village Museum publication, available for sale only in our Museum store. 36 pages, 8.5 x 11"