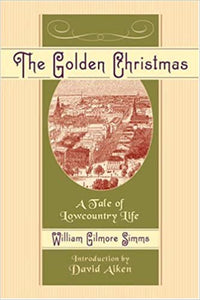 Originally published in 1852!  Rife with historical details and peppered with comic characters, The Golden Christmas remains a timeless tale of South Carolina's rich holiday heritage. Originally published in 1852, William Gilmore Simms's classic lowcountry romance chronicles the social customs and Christmas traditions of an antebellum plantation near Charleston.

Drawing influence from Romeo and Juliet and A Christmas Carol, Simms centers his plot on the pride of a Huguenot family, the prejudice of an English family, and the plight of star-crossed lovers, Ned Bulmer and Paula Bonneau, to win the blessings of both feuding houses amid a festive and frantic holiday season. Simms populates his novel with a lively cast―a learned Northern professor, a young English nobleman, opinionated widows, a blustery plantation owner, a condescending servant, a pig-thieving coachman, and a good-hearted barrister.

Interwoven into the text are engrossing details about the lavish decorations and festivities that were the hallmark of Christmas celebrations in the antebellum South. Vibrant fireworks, candles nestled in holly, games of whist and backgammon, Yule logs, eggnog, and a visit from Father Chrystmasse all play their parts as the narrative unfolds. Here, too, are accurate descriptions of dress, dialogue, recreation, cultural mores, social hierarchy, and a vivid tableau of a shopping trip to Charleston's King, Queen, and Meeting streets in the 1850s.

Equal parts novel of manners and comic romance, The Golden Christmas is now, as it has always been, a holiday gift to lovers of Southern lore from South Carolina's most famous author. This edition includes an introduction by Simms historian David Aiken.