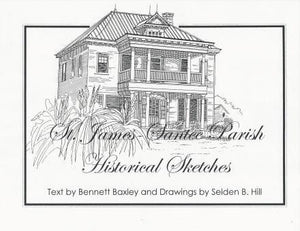 For many years, The St. James-Santee Parish Historical Society organized tours of the parish. With each ticket purchased a visitor was given a booklet of information about the sites to be toured. Bennett Baxley, a founding member of the society, was chosen to write a brief history of each location. Every year the booklet was expanded to include new sites. Selden "Bud" Hill's fine pen and ink drawings portray the warmth and charm of that picturesque seaside village and capture the unique beauty that belongs only to this magnificant part of the Old South.
Our booklet is a reprint of that old tour booklet, which has been expanded once again.
Text by Bennett Baxley and Drawings by Selden B. Hill
An exclusive Village Museum publication, available for sale only in our Museum store.
43 pages, 8.5 x 11"