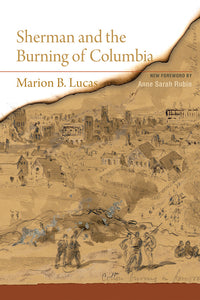 An investigation into who burned South Carolina's capital in 1865

Who burned South Carolina's capital city on February 17, 1865? Even before the embers had finished smoldering, Confederates and Federals accused each other of starting the blaze, igniting a controversy that has raged for more than a century. Marion B. Lucas sifts through official reports, newspapers, and eyewitness accounts, and the evidence he amasses debunks many of the myths surrounding the tragedy.
Rather than writing a melodrama with clear heroes and villains, Lucas tells a more complex and more human story that details the fear, confusion, and disorder that accompanied the end of a brutal war. Lucas traces the damage not to a single blaze but to a series of fires—preceded by an equally unfortunate series of military and civilian blunders—that included the burning of cotton bales by fleeing Confederate soldiers.
This edition includes a new foreword by Anne Sarah Rubin, professor of history at the University of Maryland, Baltimore County, and the author of

 
Through the Heart of Dixie: Sherman's March and America
.