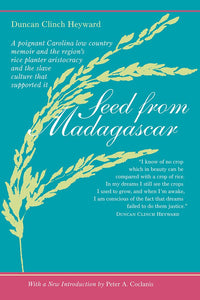 Long before there were cobblestone streets along the Charleston battery, there was rice and there were slaves—the twin pillars upon which colonial Carolina wealth was built. But by the Civil War both began to crumble, along with the planter aristocracy they supported. 
Seed from Madagascar chronicles the linked tragedies of the prominent Heyward family and South Carolina's rice industry while underscoring the integral role African Americans played in the fortunes of the planter class and the precious crop.

As much about race as about rice, Duncan Clinch Heyward's account describes the master-slave relationship, the planting and marketing of rice, and the changes wrought by the Civil War. Peter Coclanis's vivid introduction to this Southern Classics edition places Heyward's chronicle in its historical and cultural context, making Seed from Madagascar as important today as when it first appeared in the 1930s.