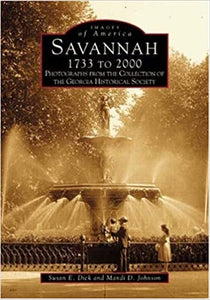 Covering just less than two-and-a-half square miles, Savannah's air is still sweetened by the scent of tea olives and jasmine, her streets are still lined with the rich palettes of azaleas and camellias, and her people are generous and welcoming. Savannah has enchanted residents and visitors alike for more than two-and-a-half centuries with a rich architectural heritage and a remarkable natural beauty.
Founded on February 12, 1733, by Gen. James E. Oglethorpe, Savannah has played an active role on the American stage, in times of war and hardship, as well as in times of peace and prosperity. The city's location at the mouth of the Savannah River created one of the largest seaports on the east coast, and her history is as colorful and varied as the numerous industries that made their way to her banks.
Within these pages readers will visit Savannah's signature squares and parks, including Forsyth Park and Colonial Park Cemetery, as well as buildings long since vanished from the city's landscape, such as the old DeSoto Hotel and the City Market. Also showcased are some of Savannah's private homes and public buildings, such as the Telfair Museum of Art, the Chatham County Courthouses, and Christ Church, and such memorable events as the fire of 1889.