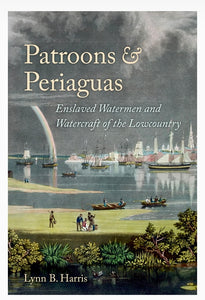 Patroons and Periaguas
 

explores the intricately interwoven and colorful creole maritime legacy of Native Americans, Africans, enslaved and free African Americans, and Europeans who settled along the rivers and coastline near the bourgeoning colonial port city of Charleston, South Carolina.
Colonial South Carolina, from a European perspective, was a water-filled world where boatmen of diverse ethnicities adopted and adapted maritime skills learned from local experiences or imported from Africa and the Old World to create a New World society and culture. Lynn B. Harris describes how they crewed together in galleys as an ad hoc colonial navy guarding settlements on the Edisto, Kiawah, and Savannah Rivers, rowed and raced plantation log boats called periaguas, fished for profits, and worked side by side as laborers in commercial shipyards building sailing ships for the Atlantic coastal trade, the Caribbean islands, and Europe. Watercraft were of paramount importance for commercial transportation and travel, and the skilled people who built and operated them were a distinctive class in South Carolina.
Enslaved patroons (boat captains) and their crews provided an invaluable service to planters, who had to bring their staple products—rice, indigo, deerskins, and cotton—to market, but they were also purveyors of information for networks of rebellious communications and illicit trade. Harris employs historical records, visual images, and a wealth of archaeological evidence embedded in marshes, underwater on riverbeds, or exhibited in local museums to illuminate clues and stories surrounding these interactions and activities. A pioneering underwater archaeologist, she brings sources and personal experience to bear as she weaves vignettes of the ongoing process of different peoples adapting to each other and their new world that is central to our understanding of the South Carolina maritime landscape.