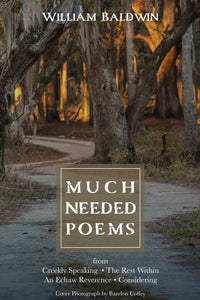 Much Needed Poems are exactly what they claim to be. Poems much needed!
Though there's plenty here for the young to enjoy-a lesson in happiness for all---poet William Baldwin is now well into retirement and up against the illnesses and losses that come with the territory. While dodging the perils of Covid and the antics of unhelpful politicians, he faces a mysterious serious stomach ailment, the deaths of love ones-and the gradual dimming of sight.
     For the last 12 years he has been at least trying to write a poem a morning. Now he suddenly begins to write two and three a day-days usually starting around 3 a.m. The settings of the poems? The Southern village around him. And the natural wilderness just beyond. For companions his wife, his dog, his kayaking and hiking companions--and birds, fish, alligators.
The first line in the collection is: "In Heaven will I be allowed to bog through the salt marsh again?"