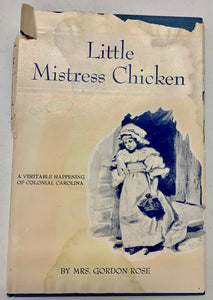 A Classic Tale, based on a horrifying, true incident in which a child was abducted and rescued in Berkeley County, South Carolina in 1748.

Little Miss Catherine Chicken was born in 1740, the daughter of a wealthy Southern family. Following the death of her father and her mother's remarriage, 8-year-old Catherine was sent away to a boarding school. This book describes a harrowing punishment in which little Catherine was bound to a tombstone in the graveyard and left overnight. 

Happily, Little Miss Catherine Chicken overcame her tragic experience. She later married Benjamin Simmons, and lived at Middleburg Plantation.
Dust Jacket torn/stained. This book is in very good condition overall with some stains. The binding is tight and there is some water staining along the edges of the last pages. No damage to any text or illustrations.There are B&W Illustrations; Small 8vo 7½" - 8" tall; 61 pages; This hard cover volume was printed by the R.L. Bryan Company, Columbia, SC in 1969.  The story was originally published in "The Youth's Companion" in 1916 and reprinted by courtesy of the magazine. Hardcover editions of this book appeared on the market in the 1920's.