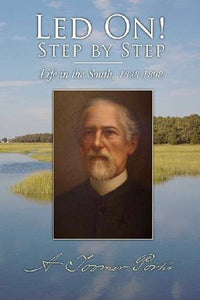 First published in 1898, Reverend A. Toomer Porter's memoir details one remarkable man's experiences during the tumultuous years before, during, and after the Civil War. Porter (1828-1902) was born into a wealthy South Carolina rice-planting family, but sold his plantation and slaves--insisting that the enslaved families remain intact--and entered the Episcopal ministry in 1854. As rector of the then-struggling Church of the Holy Communion in Charleston, he witnessed secession, served as chaplain with the Washington Light Infantry, and confronted General William T. Sherman on the streets of Columbia as the city burned.
After the war he campaigned for years to support his parish, as well as a black Episcopal church, an orphanage for the children of former slaves, a school for impoverished white children (today Porter-Gaud School in Charleston), and many other institutions designed to help his collapsed community recover. He raised money for his projects throughout the North and in Europe, and counted on major industrialists and presidents among his supporters.
Led On! Step by Step recounts the stirring triumphs and depressing setbacks as Porter struggled to build up the spiritual and economic resources of his community. His work benefited everyone in South Carolina, regardless of their race, gender, or income. He recognized no boundaries and was one of the rare white heroes of Reconstruction.
This edition includes a new introduction by Charleston attorney Thomas Tisdale.