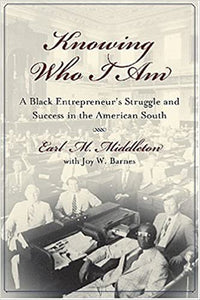 A third-generation native of Orangeburg, South Carolina, Earl M. Middleton has prospered in ways few African Americans have in the rural South. As owner of a successful business that cuts across racial lines and as a political leader in the cause of civil rights, Middleton has garnered hard-won recognition for his efforts from blacks and whites alike. His life story is at once illustrative of dynamic developments in Southern race relations over the past eight decades and inspirational in telling how one individual capitalized on those changes to perpetuate a family legacy of entrepreneurship and service in his community.
Born in 1919, Middleton is the youngest of six children. His father was a carpenter, and his mother was in one of the first graduating classes of what is now South Carolina State University. Middleton himself graduated from Clafin College, Orangeburg's predominantly black Methodist school, where his studies of sociology became the basis of his knack for understanding and communicating with different communities.
A veteran of World War II, Middleton was trained as a Tuskegee Airman in 1942 and then served as an infantry soldier in the Pacific theater. Returning to Orangeburg in 1946, he became a barber and then a restaurant owner before finding his true vocation as a real-estate and insurance salesman. What is now one of the largest and most profitable real-estate firms in Orangeburg began as a sideline in the back of a barbershop, but Middleton quickly developed a reputation for superior knowledge and service.
But his success did not come without adversity. As a civil rights activist in the turbulent 1950s and 1960s, Middleton witnessed firsthand the bravery and tragedy of Orangeburg's citizens. He was a leader in South Carolina's Republican Party, but along with many black Republicans, he switched to the Democratic Party in 1960. Middleton participated in sit-ins and signed a petition to send his daughter to an all-white school. His wife, then the head of South Carolina State's library science department, was jailed for joining a student protest. From these experiences Middleton developed an unconquerable forbearance that complemented his unshakable belief in equality. In 1974 he was among the first wave of twentieth-century African Americans to be elected to the South Carolina General Assembly, where he served for a decade. There he was a founding member of the Legislative Black Caucus and an influential voice on the U.S. Civil Rights Commission.
Today Orangeburg is a community that values growth, as evidenced by the rising number of new arrivals and returning populations. At the center of this new age is Earl Middleton, a man for whom appreciation of the past and investment in the present have always been good for business.