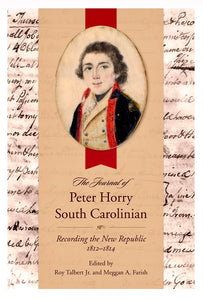 Peter Horry (1744-1815), a Georgetown rice planter and slaveholder, was one of the founding fathers of South Carolina and one of the state's early chroniclers of the War of Independence. During the American Revolution he served with distinction under the commands of General Francis Marion and General Nathanael Greene, proving himself an able officer and leader. He represented Prince George Winyah Parish in the state House of Representatives in 1782 and from 1792 to 1794, and in the state Senate from 1785 to 1787. In addition he commanded the state militia's South Brigade. In 1801, as new electoral districts were established, the legislature honored Horry's wartime service by creating Horry District, now Horry County.
Horry began keeping a private journal in 1812, a practice he continued until his death. Portions of the journal previously appeared in the

 
South Carolina Historical and Genealogical Magazine
 

during the 1930s and 40s. Editors Roy Talbert Jr. and Meggan A. Farish have restored to print all of Horry's extant journal entries, offering the modern reader detailed insights into the daily life, agricultural practices, and the culture of South Carolina during its early statehood years. Horry also provides accounts of his dealings with his household slaves and of plantation life in the lowcountry and midlands.
The journal vividly portrays life on North Island near Georgetown. Horry's writings also provide a firsthand local account of the War of 1812, describing the military units stationed nearby as well as the war's impact on coastal society and economy. After leaving Georgetown, Horry moved to Columbia to be with his wife's family, the Guignards. He chronicles the social, political, and religious affairs of the capital city and comments on the new South Carolina College, the antecedent to the University of South Carolina. His Columbia home, later named the Horry-Guignard House, stands to this day.
Augmented with a detailed introduction and annotations,

 
The Journal of Peter Horry, South Carolinian
 

fills an important gap with its firsthand accounts of an influential soldier, statesman, and planter too often neglected in American historiography.