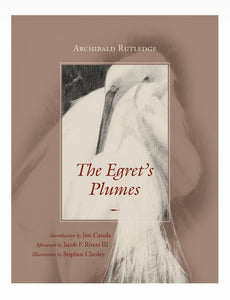 Archibald Rutledge's suspenseful story "The Egret's Plumes" is a cautionary tale exalting the virtues of good sportsmanship, conservation of the natural world, and the universality of parental instincts.
Fleeing the relentless plume hunters of their native Florida, a pair of exquisite snowy egrets make a new home—and then a new family—in the South Carolina lowcountry swamps of Blake's Reserve. When the male egret is killed by a poacher, the female is left to defend her nest and raise their hatchlings.
Will Ormond, a restless and reckless hunter and heir to the reserve's plantation, spots the surviving egrets after a day of disappointments with his original prey. As he wades into the swamp to gain a better position for his kill shot with his only remaining cartridge, Will comes to recognize elements of his relationship with his own mother in the selfless devotion of the female egret to her young. In this moment of uncharacteristic hesitation, he also realizes that he is no longer alone in the brackish waters of the reserve and that the hunter may have become the hunted.

"The Egret's Plumes" is an inspiring, allegorical narrative that illuminates the pitfalls awaiting immoral acts and the saving virtues of selflessness and compassion. This short story was written for publication in an early twentieth-century boy's magazine and was first collected in the privately printed Eddy Press edition of Old Plantation Days (c. 1913). Limited to just a few hundred copies, the Eddy Press edition is highly prized by Rutledge collectors and includes these four stories—"Claws," "The Doom of Ravenswood," "The Egret's Plumes," and "The Ocean's Menace"—not found in the more widely available 1921 Stokes edition of Old Plantation Days.

A project of South Carolina Humanities benefiting South Carolina literary programs, this new edition of The Egret's Plumes is illustrated in handsome charcoal etchings by southern artist Stephen Chesley. Award-winning outdoors writer and noted Rutledge scholar Jim Casada provides the volume's introduction, and outdoors writer and author Jacob F. Rivers III offers an afterword.