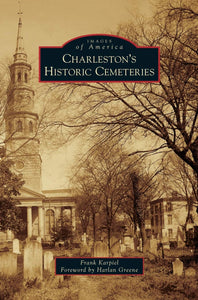 When Charleston's founders moved their settlement across the Ashley River to the peninsula in 1680, they hoped for protection from pirate and Native American attacks, as well as increased trade and healthier living conditions. Their first three wishes came true, but not the final one. Life in colonial Charles Towne was dangerous--epidemic diseases, primitive medical practices, and a harsh environment led to the early demise of rich and poor alike. The graveyards of churches and public burial grounds quickly filled.
Today, Charleston's historic cemeteries are almost as common a sight downtown as the churches that define the city. These tree-shrouded glades invite tourists and residents to explore the resting places of Charleston's most illustrious and interesting personalities. Charleston's Historic Cemeteries offers a guided pictorial tour of the elaborate gravestones and elegant inscriptions dedicated to the famous and infamous, including William Rhett and his adversary, the pirate Stede Bonnet.
With dozens of illustrated stories about the transformation of funerals, tombstones, and mourning customs in America during the past 300 years, the book details how Charleston became the home of a historically unique, city-wide gallery of mortuary sculpture.