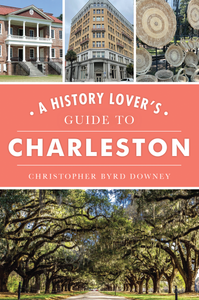 HOT off the PRESS!! April 2022!
Founded in 1670, Charleston is among the oldest cities in the nation and site of some of the most pivotal events in American history. Explore the city and discover the Old Exchange and Provost Dungeon where South Carolina ratified the U.S. Constitution in 1788. Visit beautiful Rainbow Row and learn the true history of this most iconic of Charleston sites. Tour the city's oldest church edifice at St. Michael's Church, which first opened for services in 1761.
Join historian and author Christopher Byrd Downey for a guided tour of nearly one hundred historic Charleston sites tailor-made for the history lover.

Christopher Byrd Downey (Captain Byrd) received his degree in history from Virginia Tech in 1995 and shortly after graduating began a career in the maritime industry. He has previously authored three books related to the history of Charleston: Stede Bonnet: Charleston's Gentleman Pirate, Charleston and the Golden Age of Piracy and Edgar Allan Poe's Charleston. A native of Virginia, he now lives with his family in Charleston.