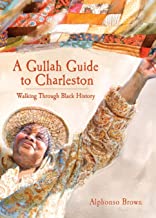 Author Alphonso Brown, owner and operator of Gullah Tours, Inc., guides you through the history and lore. Visit Denmark Vesey's home, Catfish Row, the Old Slave Mart and the Market; learn about the sweetgrass basket makers, the Aiken-Rhett House slave quarters, black slave owners and blacksmith Philip Simmons.
Brown's distinctive narration, combined with detailed maps and vibrant descriptions in native Gullah, make this a unique and enjoyable way to experience the Holy City.
Alphonso Brown was born and reared in Rantowles, South Carolina, a rural area about twelve miles south of Charleston. Mr. Brown is a licensed tour guide for the City of Charleston and owns and operates Gullah Tours. He is a lecturer on the Gullah language and black history of Charleston. He has given countless lectures and Gullah presentations has made numerous radio and television appearances. Mr. Brown's Gullah Tours has been featured in Charleston Magazine, Southern Living magazine, Reader's Digest, the Boston Globe, New York Times, and Charles Kuralt's bestseller America. He is a recipient of the very prestigious "Three Sisters Award."