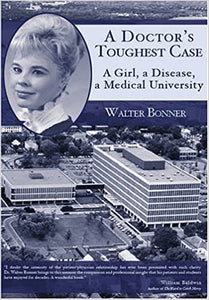 A Doctor's Toughest Case is a heartwarming story that offers a unique glimpse of humanity in the often cold and impersonal world of medicine. Charleston-based physician Dr. Walter Bonner employs a delicate balance of sensitivity, humor and compassion to describe one brave young woman's battle with a life-threatening illness.
Stricken with systemic lupus erythematosus, Dianne Lewis came under Bonner's care and through her courage left a lasting impression on his life and career. Her genuine case report is skillfully interwoven in the memoir and provides a compelling look at this challenging and fascinating disease. Bonner presents details of interviews and examinations, accounts of ward rounds and informal conversations with students and faculty members to provide an accurate representation of the disease and its effects.
At the heart of the story lies an insightful and in-depth look at the inner workings of the patient-physician bond. For many years, Dr. Walter Bonner was a teacher and mentor for students at the Medical University of South Carolina. Through this moving account of an intense personal experience, he now shares his knowledge of the world of medicine with all readers.
Walter Bonner was born in McClellanville, South Carolina. He graduated from Erskine College in 1951 and from the Medical University of South Carolina in 1955. Dr. Bonner served in the U.S. Navy for two years, and did fellowship training in hematology and rheumatology at the University of Virginia. In 1963 he returned to Charleston and became the first rheumatologist in the state of South Carolina. His first book, Home in the Village: McClellanville in Old St. James Santee Parish was published in 2002.
Two gently used books, both signed by the author.