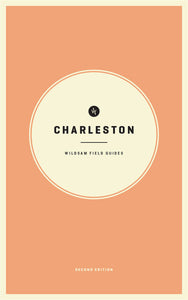 HOT off the PRESS!!
Wildsam Field Guides: Charleston leads travelers through the best of what the Holy City has to offer, from Gullah culture to historic garden tours. Handy pocket size!

In this brand new (2022) second edition of Wildsam's guide to Charleston, contributors include author Pat Conroy, clammer Dave Belanger, band director Linard McCloud, novelist Josephine Humphreys, artist Becca Barnet, anthropologist Ade Ofunniyin, editor Maggie White, and preservationist Paul Saylors, among others. Put on your shorts and sandals, and get ready to explore what the best of what Charleston has to offer for tourists and locals alike: 
Lowcountry fauna, including the Angel Oak, one of America's oldest trees;

civil rights history, landmarks and important figures;

historic architecture of Charleston's beautiful downtown;

the fishing industry (and the best seafood restaurants);

James Beard Awards;

hurricanes;

pluff mud;

shipwrecks

and much more!


Taylor Bruce is the Founder and Editor-in-Chief of Wildsam Field Guides. He grew up on his family farm on the border of Georgia and Alabama. Taylor studied writing at Vanderbilt University, and, after, wrote freelance for magazines such as Men's Journal, Oxford American and National Geographic Adventure, among others. He took a full-time writer's post at Southern Living in 2007. After moving to New York and pursuing an MFA in Creative Writing at Brooklyn College, Taylor launched Wildsam out of his 500-square foot apartment in 2012. The original Nashville guide caught the attention of national media and thoughtful travelers alike, and in 2015, National Geographic awarded Wildsam the "Traveler 50" award. Taylor lives in Austin, Texas, with his wife, Robin, and two sons, Booker and Truett.