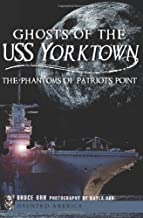 More than four decades after the great aircraft carrier U.S.S. Yorktown last served her country, the ghosts of battle are still heard and felt onboard.

Staff members and visitors claim to have experienced disembodied voices, uniformed apparitions, shadowy masses and other unexplainable occurrences since the "Fighting Lady" first docked at Patriots Point.
Join local author, investigator and "ghostorian" Bruce Orr as he examines the history, haunting and heritage of the National Historic Landmark and home of Patriots Point Naval and Maritime Museum.