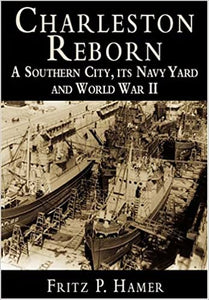 As the nation entered World War II, the city of Charleston struggled with a stagnant economy that had never recovered from the Civil War. The glory days of the antebellum period were decades in the past, yet Charlestonians drew their pride from a bygone era, rather than from hope for the future.
This compelling look at Charleston's twentieth-century history chronicles the changes and challenges faced by Charleston as its population exploded in response to expansion of the Charleston Navy Yard. As World War II called for the United States to flex her industrial might, the shipyard rose to meet the challenge and 55,000 new residents flooded into the city.
Charleston was unprepared for such dramatic expansion: the need for labor at the yard meant the sudden appearance of good jobs, but also resulted in severe housing shortages, food rationing and dilemmas over race and gender. Ongoing workforce shortages forced the navy to look to sources of labor previously regarded as unsuitable--African Americans and women--causing dramatic changes to the status quo.
Author and historian Fritz Hamer makes use of written documents and oral histories to argue that the war's effects pulled a reluctant "Holy City" into the twentieth century, setting the stage for further modernization and growth. Warm personal accounts from a range of individuals who witnessed the city's dramatic change provide a human element in Hamer's solid research.
Well written and imaginatively conceived, Charleston Reborn will interest the general reader as well as a wide range of historians--from students of World War II and chroniclers of gender and racial history, to urban historians and scholars of the modern American South.