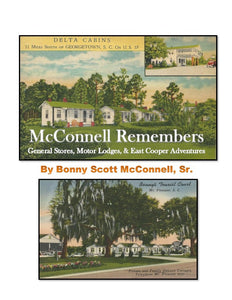 A fascinating tale of the McConnell-Thames business empire along SC Highway 17, and neighboring commercial businesses.  Bonny McConnell, Sr. entertains us with family stories from the 1940's and 1950's that not only identify all of the general stores, gas stations, and motels that the family owned and operated, but personal tales as well.
     Do you remember Bonny's Barn, The Delta Cabins, or A. B. McConnell's Store? How about the Thames Store & Restaurant or Bonny's Tourist Court in Mt. Pleasant?
     Read about fishing, hunting, and crabbing; and about World War II. See an inventory of items sold in McConnell's Store. Look at photos from the family album too.
     76 pages incorporating over 70 photos.